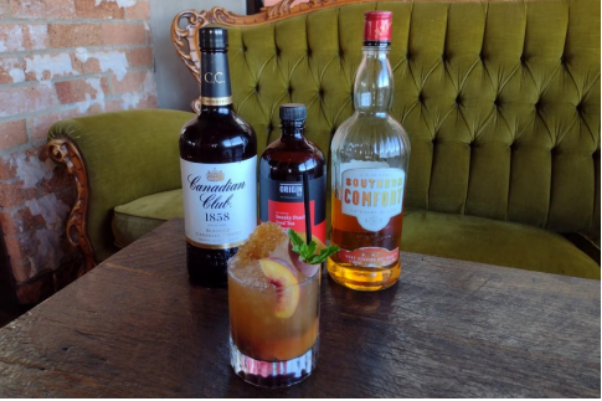 'Sneaky Tea' - Winning Cocktail of the Origin Tea Bartender Challenge
Created by Giorgia Zanzani from Balboa's Italian Restaurant, the Sneaky Tea is a cocktail to quench your senses. Visually compelling, aromatically alluring, texturally sublime, and most importantly, a tasty tipple until the last drop.

What appears to be a straight forward drink belies careful consideration of the ingredients that have gone into creating the various elements required to bring this refreshment together.

Artfully built with delicious finesse, the smooth combination of Southern Comfort and Canadian Club Whiskeys perfectly complement the fruity sweetness of Origin Tea's Sneaky Peach Iced Tea Syrup.

Garnished with bursts of Sneaky Peach caviar and a minty perfume, this cocktail is a little luxe and a lot of fun.
Sneaky Tea
Ingredients:
15ml lime juice
1 bar spoon of raw sugar
15 ml homemade peach puree
10 mint leaves
30ml Canadian Club
30ml Southern Comfort
Garnish:
Mint sprig
Home-made Origin Tea Sneaky Peach Iced Tea Syrup caviar
Spray of peppermint oil essence
Method for drink:
In a rock glass build all ingredients
Fill with crushed iced and stir
Method for garnish:
Peach puree:
In blender, add 1 can of peaches in syrup, 60mL sugar syrup and 30mL peach liqueur

Sneaky Peach Iced Tea Syrup caviar:
Dissolve sodium alginate in the Sneaky Peach syrup
Wait 15 minutes
In another container prepare a calcium lactate bath
Add the syrup to a syringe and squeeze drops into the bath
Strain and place on top of crushed ice

Peppermint oil essence:
Dissolve 2 drops of peppermint oil in a 50mL spray bottle filled with water and 2mL of Sneaky Peach Iced Tea Syrup