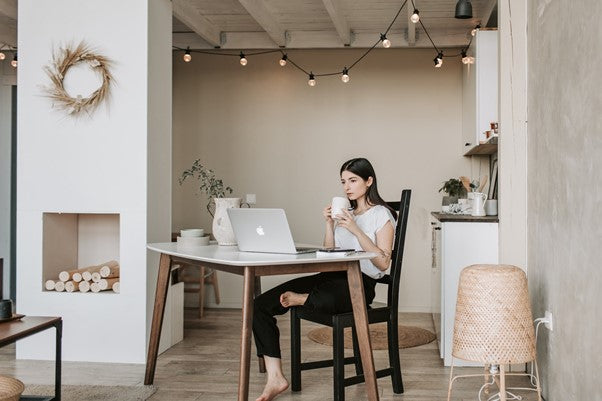 How To Make A Tea Station At Home
We've endured a series of lockdowns as a response to stop the spread of COVID - and as a result, we've learned how to do more from the comfort of our homes. 
For example, to continue enjoying our favourite cafe-style beverages, we've had to adapt by setting up tea/ cafe stations in the kitchen. Though even as COVID slowly begins to slow down, these set-ups have become a staple in many homes - whether it's for personal pleasure or for hosting friends and family. 
For those eager to jump on this bandwagon, we've put together an ultimate guide for creating your own tea station at home - with all the necessary equipment and the must-have tea blends listed below. Check it out! 
What Do You Need To Make A Tea Station?
1. A Practical Location
The first thing you'll need for your tea station is a good location - a spot that's practical for brewing tea. Typically, this will be on the kitchen bench - especially since you have all the necessary equipment neatly stored nearby, it's easy to clean up any spillage, and you have plenty of space to move around. 
That being said, just because the kitchen is a practical choice doesn't mean you have to set-up your tea station here. If you're accustomed to hosting guests in other rooms of the house, consider investing in a bar-trolley to make your tea station on - it's just as practical and can be an intriguing decorative piece to any room. 
2. Timer Kettle
Now, let's get into the nitty-gritty - one of the most obvious tools you'll need for your tea station is a quality, timer kettle. 
When you're looking for a kettle, search for one that you're going to enjoy using for the long haul and will look good in your station. Aim for a kettle that doesn't make too much noise, has a comfortable handle, and sturdy base, but most importantly, find one that does not have any plastic touching the water. Plastics may sometimes take on unwanted odours which may then affect the taste of your tea.
Take a look at this article for a list of the 8 Best Smart Kettles of 2020. 
3. A Set Of Tea Cups
Choosing what to drink your tea from is one of the most important aspects of making a tea station. Start by asking yourself, do you prefer sipping from tea cups or mugs?
If you're chasing a more luxurious, traditional tea-drinking experience, it may be worth investing in a set of fine tea ware - though this can be an expensive option. Otherwise, if you're building your tea drinking station for comfort and convenience, a set of easy, grab-and-go mugs would be a suitable choice. 
Feeling a bit fancy? You could also find traditional Asian tea cups perfect for those green and oolong teas.
4. Tea Chest 
Organisation is king when it comes to creating your own tea station at home, which is why it's worth having a space specifically dedicated to organising your various types of tea. This is where a tea chest can come in handy. 
It's an elegant piece that's perfect for keeping your teabags in order while showcasing the range you have on offer. 
This 4-Compartment Tea Chest is a great, compact option - with a sleek, black exterior to display your teabags most stylishly. 
5. A Teapot With An Infuser 
For those tea-lovers that prefer brewing loose leaf tea, there are a few other essential items you'll need to round-out your tea station - including a teapot with an infuser. 
When you're looking for a suitable option, consider the teapot's style, materials, and intended use. Does it fit into your aesthetic? Is it made from durable material? Is it big enough to make multiple cups at a time? From here, you can pick a teapot to perfectly suit your tea station. 
Check out this Japanese-styled teapot, made from cast iron and a textured exterior to provide an artsy touch. Inside is a durable, long-life stainless steel infuser - perfect for brewing loose leaf tea. 
6 Tea's To Stock In Your Kitchen 
Now that we've taken care of the location and necessary equipment, let's focus on the most important aspect of a tea station - the tea! Here are our picks for the 6 must-have blends for your tea-making station. 
1. English Breakfast
English breakfast is just one of those staples that knows how to hit the spot. It's aromatic, full-bodied, and contains moderate levels of caffeine content to help provide a running start to the day. 
This black breakfast tea proves to be a popular addition to any tea-drinking arsenal for a reason - because it's widely enjoyed! It'll be a trusted choice for many of your guests. 
2. Green Tea Jasmine 
Though each tea can deliver a hefty platter of nourishing benefits, nothing quite compares to green tea. After all, this blend can elevate many aspects of our health and wellbeing - providing an assembly of antioxidants, boosting brain function, fighting off bad breath, decreasing our risk of chronic disease, and so much more.
With all these advantages up for grabs, it's worth reaching for a green tea and enjoying the sweet, earthy, yet refreshing flavours it delivers. 
3. Chamomile 
A great end-of-the-day beverage to include in your station is a chamomile tea - ideal for relieving any stress from the day and calming the mind.  
Pour yourself a cup before bed or after wrapping up your day working at home to take full advantage of the blend's soothing effects and promote a good night's sleep. With all those tranquil vibes up for grabs, your Chamomile tea will be a blend that's just for you. 
4. Forest Berry
Got a sweet tooth that needs fixing? Try reaching for a forest berry blend. It'll prove to be a valuable addition to your tea station - standing apart from those earthy or spicier blends in your kit. 
Containing a unique blend of carefully selected berries and wild-flowers, this fruity blend is easy to enjoy in a hot mug or a chilled iced tea. 
5. Iced Tea Syrup
For those hotter days of the year, a hot cup of tea simply won't cut it - but a sweet, refreshing iced tea might do the trick. 
These iced tea syrups will be a very versatile item in your station, providing a base for you to get creative with various iced tea or cocktail recipes. Though the best part is that these beverages don't take long to make - just add one pump to ice-cold sparkling water and stir. Consider getting a soda maker to make it the ultimate hot and cold tea station at home.
6. Latte Blends 
So, this last one isn't exactly a tea, but it's still a great product that's worth stocking in your tea station. Latte blends are a must-have if you're eager to shake things up and enjoy a luxurious, cafe-style beverage in the comfort of your own home.
Whether you're chasing a sweet chai for an afternoon pick-me-up, or an earthy matcha or turmeric latte to nourish your soul, there's a flavour available to suit any taste-bud. Matcha, especially in the morning has been proven to be an excellent alternative to coffee with its consistent yet smooth delivery of caffeine, promoting focus, attention and energy.
Setting up an at-home tea station is easy when you've got the right equipment and know-how by your side. With these simple tips, your tea kit will become a practical staple of your household in no time at all.