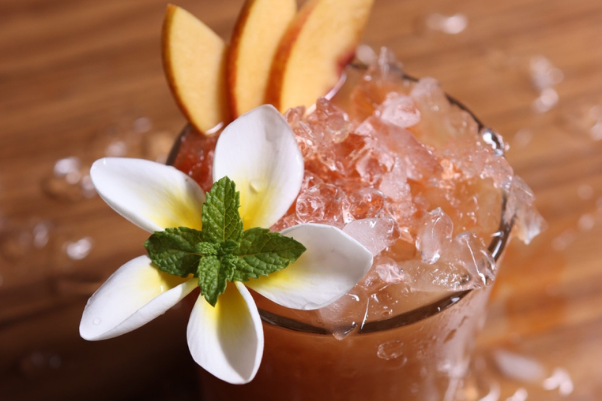 'Mai Tea' - Origin Tea Bartender Challenge Honorary Runner-Up Cocktail
From one of our honorary runners-up, Lucas Bucton, has created this Mai Tai variant that takes tea and makes it a unique flavour in the drink.
This is what Lucas from Jimmy's Bar in Ed.Square Town Centre and Glass Half Full Bartending, had to say about his absolute sparkler of a creation:
"The Origin Tea Sneaky Peach Iced Tea Syrup works perfectly with the orgeat and rum to give it a different aspect of sweetness without pushing it over the edge and making it too sweet. Two delicious rums give this drink a perfect boozy level, while an extra measure of strong black tea helps to lengthen the drink and emphasise the tea base. A great drink overall that is able to stand alone from the original Mai Tai all while maintaining its roots from the classic tiki drink."
Mai Tea Recipe
Ingredients:
30mL Appleton Estate Signature Rum
30mL Flor de Ca

ñ

a 7 Year Rum
30mL lime juice
7.5mL orgeat syrup
15mL black tea
7.5mL Grand Marnier
2 dashes orange bitters
Garnish:
Mint
Peach slice fan
Flower (optional)
Method:
Add all ingredients to a shaker with a small scoop of crushed ice
Whip shake until most of the ice inside the tin has melted
Fill a glass about 2/3 full with crushed ice and dump the cocktail in
Top up the rest of the glass with more crushed ice
Throw a few dashes of Angostura bitters over the ice
Garnish with mint and a peach slice fan, flower is optional
Sip and enjoy!